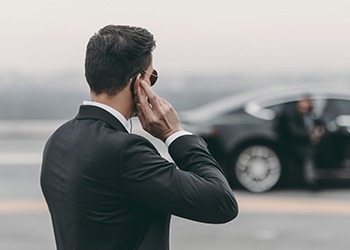 Armed Private Security & Executive Protection
Blackstone Investigations Group provides discreet highly specialized executive protection and transportation services for highly visible corporate executives, political office holders, public figures, and at-risk families and individuals, whether they are under immediate threat or simply want the added protection. Our highly skilled operatives are fully licensed and trained to provide complete protection as they are transported safely to and from their destination. The Blackstone EP team is comprised of former military and law enforcement personnel with a proven track record of success in highly stressful scenarios.
Every client receives comprehensive security services with discretion and a firm appreciation for their fans that makes it all possible. Respectful, proactive, professional, courteous and discreet are words that are often used to describe our team.
Each client has a unique set of needs and personal feelings about how their professional life is handled in terms of public appearances and performances, as do the talented security professionals around them. Our dedicated team works closely to ensure that we create a specific plan that represents the client's philosophy. BIG will provide a turnkey, fully customized program for every client that encompasses their itinerary for the entire tour or visit.
The staff at BIG is capable of handling all elements of the client's schedule from hotel transportation, appearances, and movement of the client, client's family, and other VIP guests. We act as the direct liaison between the venue/event and the security vendors and emergency/law enforcement retained by the event to ensure the best and fest outcome for everyone involved, especially the guests.
If you have a client in need of Executive Protection, Private Transportation or Personal Security, contact Blackstone Investigations Group, LLC today so we can get to work for you! We operate in the strictest of confidence. Owner Dave Ollivier, a former Law Enforcement officer and United States Marine Corps veteran is directly involved with, and personally oversees every aspect of all Executive Protection details from conception to completion! CALL US TODAY and get the protection you need!!