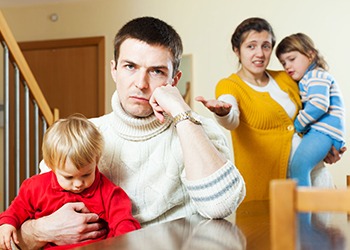 Child Custody & Child Support
The welfare of children is always of utmost concern. In a divorce situation or separation, the parent awarded custody may not be suitable as the primary care giver. In some cases, even visitation may not be appropriate. The other parent may have started dating someone with a questionable past or possible criminal background, or may be using a baby sitter who might not be fit to care for your children. BIG investigators can inconspicuously follow a parent during their planned visitation to determine if any illicit or inappropriate activity that is happening while your child is in the other parent's care. Our investigators can also follow and videotape the other parent on their own free time to document and investigate their lifestyle, daily activities, living conditions and persons they associate with.
A change in circumstances may also warrant a change in child support payments. If you suspect that the award of the court ordered child support did not accurately reflect the other parent's ability to pay, or that the financial circumstances of that parent have changed for the better, BIG investigators will document the necessary evidence of lifestyle, income, and assets needed to build a case to substantiate your claim.
Concerned your child is not safe or is being mistreated, neglected or abused in some fashion while under the care and supervision of your ex spouse and their new partner? If so, contact Blackstone Investigations Group, LLC right now. Our teams of highly experienced investigators have the skill and the resources to find the information you are looking for in a timely, confidential manner. CALL US TODAY to ensure your child's safety!
Dear Dave,
"I can't even begin to tell you how special you truly are. The kindness, compassion and the amount of patience shown towards my husband and I during this troubling time was absolutely amazing! When you and your team took on my case involving the custody of my grandson, I had no idea how difficult the other parties involved would become. My grandson was in danger and living in a very unhealthy environment. Your tenacity during the investigation, and the way your team coordinated their efforts was top notch! Thanks to you, my grandson is now living with us full time and is finally safe! I will highly recommend your services to anyone who is dealing with a child custody case. Well done Dave!"
Janet C. Hammonton, NJ   9-1-20
"Hi Dave. I just wanted to reach out and say "Thanks" for all your hard work and genuine concern for my case involving child support payments. After speaking with you on the phone, I knew you were the guy for the job! Thanks to you and your professional team, I was able to prove in court that my two sons WERE NOT full time students therefore allowing me stop paying huge amounts of child support that wasn't required by law. You saved me a ton of money and I am eternally grateful to you!"
Peter Y. Medford, NJ 9-3-19