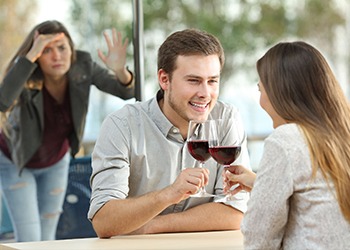 Signs of a Cheating Spouse
Having doubts that your spouse is not being completely honest with you about their whereabouts or who they are spending time with? If so, Blackstone Investigations Group, LLC can show you the clues you need to look for to start getting answers. Our firm specializes in training clients on what to look for in a cheating spouse and we will help find the answers you deserve while obtaining the evidence to back it up! BIG surveillance teams use the latest technology including social media penetration, hidden cameras, and live decoys. Here are a few things to pay special attention to:
Less Intimacy
Business Trips
Extra Grooming
Changing Habits
Holiday Absences
Excessive Overtime
Hang-Up Phone Calls
Coded Text Messages
Leaving Early
Buying Jewelry
Secretive Accounts
Returning Home Late
Hidden Bills and Letters
Unexplained Expenditures
Buying Unexplained Items
Think your spouse or significant other is having an affair? Concerned that their explanations don't quite make sense or add up and you're losing sleep over it? If so, feel free to contact Blackstone Investigations Group, LLC today. Our teams of highly experienced investigators specialize in covert surveillance in a wide variety of settings, and utilize the latest and most advanced specialized equipment and devices available. The kind of equipment that can give you the evidence you need so you can properly plan your next move!. CALL US TODAY so you can know the truth!
"Dave, I just wanted to say "Thank You" to you and your guys for doing such a phenomenal job doing surveillance on my wife and providing me the concrete evidence that my attorney and I needed for our upcoming court proceedings. The video and photographic evidence your team provided was fantastic and was all the proof we needed to win the case!"
Stan J.  Ocean City, NJ    4-12-17
"After speaking with several other private investigators, I felt the most comfortable working with Dave and his fantastic team of investigators. The situation was already stressful enough but Dave made me feel comfortable and gave me the peace of mind I needed to know that someone was actually looking out for me. He worked within my budget and got me more evidence and proof that my suspicions were right; more than I could possibly imagine. Thanks Dave for making a difficult situation a little bit better! I will highly recommend your services."
Joan D.  Mullica Hill, NJ   12-17-18
---
"Dear Sir, the way you handled my case from the start truly set the tone for how the entire investigation was going to tourn out. You were concerned, compassionate, and very determined to get me the answers I needed. Your professionalism and caring attitude are truly commendable and well deserving of my thanks. Glad you were on my team!"
SHERRY P. 11-8-21 NEW PROVIDENCE, NJ
"I would strongly urge anyone who suspects their spouse or significant other is cheating to hire a professional investigator like Dave Ollivier. Dave and his team have the experience, the street skills and the best surveillance equipment available to obtain and record evidence. He even used a night vision video camera to catch my wife kissing her new love interest in the park at 11:30pm! Thanks Dave."
PETER W. 10-17-21 PRINCETON, NJ
"To Blackstone Investigations Group, LLC and the incredible folks that work there….As you know, I suspected my husband of cheating for many years. With the Covid crisis in full swing, he was now forced to stay home since it was now more difficult to meet his lover in public since the bars, restaurants and parks were all closed. But, that didn't stop him from going, and thank God it didn't stop you guys from doing great surveillance work. I would highly recommend your services to anyone! Thanks again for a job well done."
Donna V.  Edison, NJ  4-12-20